Airfix

UK Distribution - Hornby

29.06.12
The following are now readily available in the UK
1:72
A01013A De Havilland DH 88 Comet Racer £5.99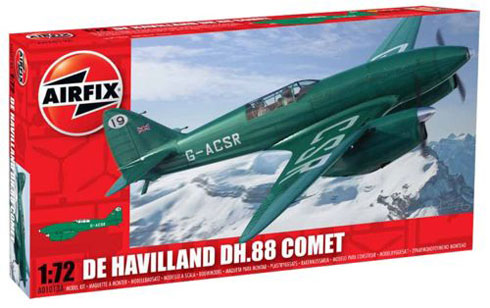 1:48
A05102 BAe Harrier GR Mk 3 £15.99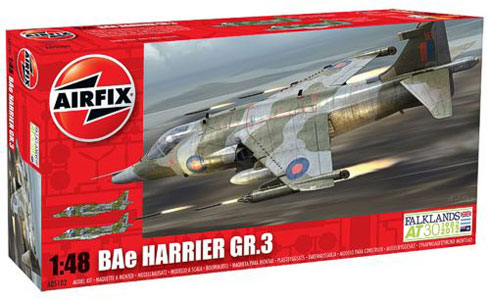 22.06.12
1:72
Now readily available is the all-new Supermarine Spitfire F Mk 22 (#A02033/£7.49) kit.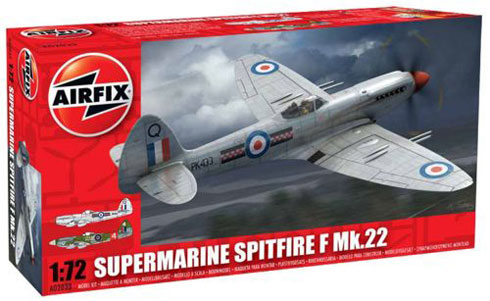 24.05.12
1:72
The all-new tooling of the Messerschmitt Bf 109E-3 is now available in standard and 'Starter Set' formats (#A55106/£7.99).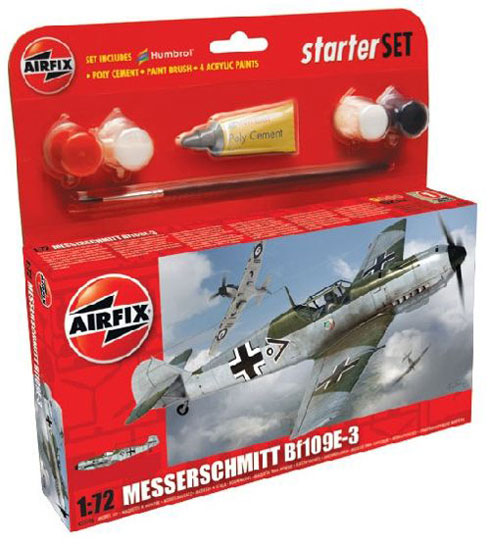 30.03.12
The following are now readily available.
1:48
A50112 Westland Lynx 'Starter Set' £36.99
A09101 Westland Lynx AH.7 £29.99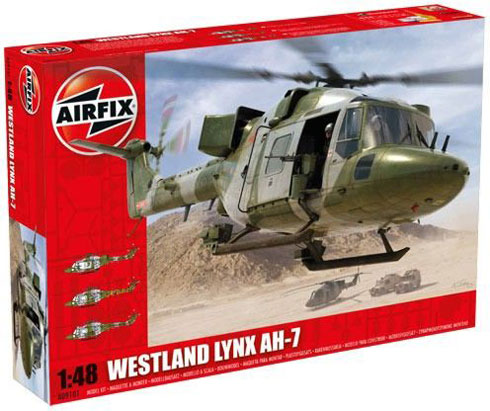 A10107 Westland Lynx Mk 88A/HMA8/Mk 90B £32.99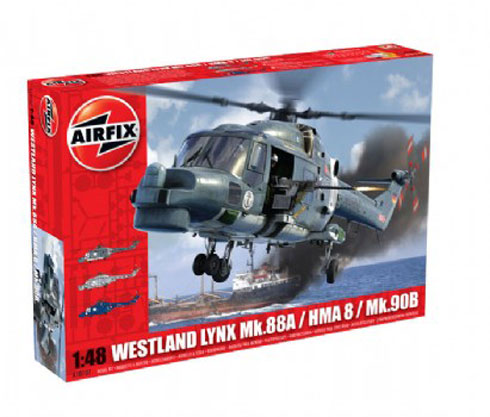 09.03.12
The following are now readily available once again.
1:72
A04051 BAe Sea Harrier FRS.1 £13.99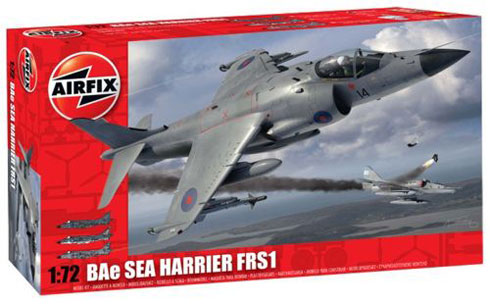 A07006 Avro Lancaster B.III/B.X ''G' for Georg' £19.99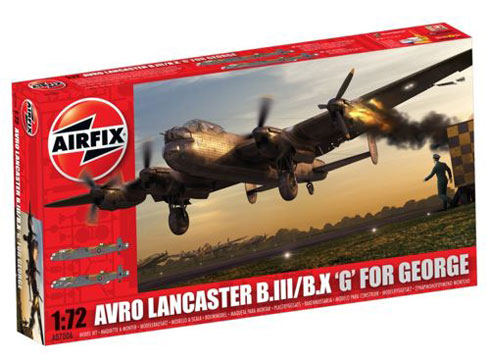 03.02.12
The following are now readily available.
1:72
A1006 Folland Gnat T.1 £5.99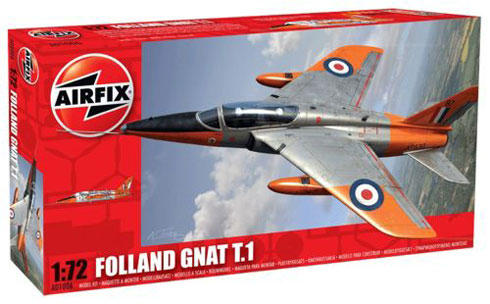 A55100 Supermarine Spitfire Mk Ia 'Starter Set' £7.99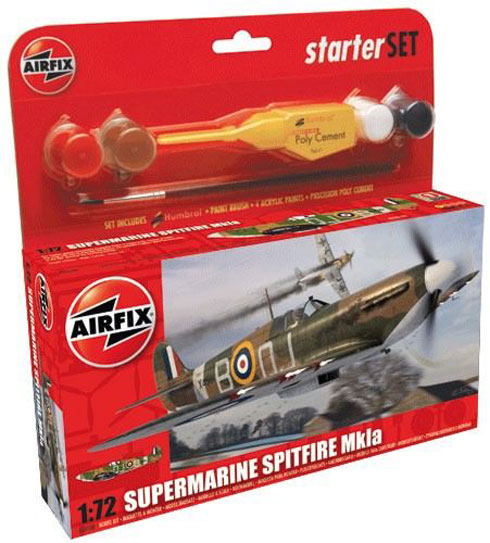 30.12.11
Airfix have just previewed their 2012 release schedule, so here are the aircraft items along with a few other items that we think will be of interest.
1:72
A01004 N.A. P-51D Mustang (New Tool)
A01006 Folland Gnat T.1 (New Tool)
A01008 Messerschmitt Bf 109E-4 (New Tool)
A01013A D.H.88 Comet Racer 'Green' [depicts G-ACSR] (Reissue)
A01054 DHC Chipmunk (Reissue)
A02022 Douglas SBD-3/5 Dauntless (Reissue)
A02033 Spitfire F Mk 22 (New Tool)
A02047 N.A. F-51 Mustang (New Tool)
A02062 Messerschmitt Bf 109E-4/Trop ()New Tool)
A03029 Douglas A-4 Skyhawk (New Tool)
A03059 Short Tucano (Reissue)
A05006 Swordfish Flotaplane (Revied tooling)
A04038 MiG-29 (Reissue)
A06007 Handley-Page 0/400 (Reissue)
A65000 Vickers Valiant B Mk 1 Sprue Set (for PR and Flight Refuelling versions)
Starter & Gift Sets
A55100 Spitfire Mk Ia (Reissue)
A55101 Tomhawk Mk IIb (Revised Tooling)
A55105 Gnat 'Red Arrows' (New Tool)
A55106 messerschmitt Bf 109E (New Tool)
A55107 P-51D Mustang (New Tool)
A55202 Hawk 'Red Arrows' (Reissue)
A55203 A-4 Skyhawk (New Tool)
A50149 RAF Benevolent Fund Hawk (Reissue)
A50133 Swordfish Mk I 'Sink the Bismark'
Dogfight Doubles
A50127 P-40B/A6M2 Zero
A50128 Spitfire Mk Ia/Bf 110
A50134 A-4 Skyhawk/Sea Harrier FRS.1
A50135 Spitfire Mk Ia/Bf 109E
Note - All above use the newly tooled versions, not the old versions
1:48
A05101 Sea Harrier FRS.1 (Reissue)
A05102 Harrer GR.3 (Reissue)
A06103 Seafire F.46/FR.47 (Reissue)
A09101 Lynx AH.7 (New Tool)
A10107 Lynx HMA.8/Super Lynx (New Tool)
Dogfight Doubles
A50014 Bf 109F-4/Spitfire Mk Vb (Reissue)
Starter & Gift Sets
A50112 Lynx HMA.8

Arifix have also announced new colours in their enamel paint range that aircraft modellers will be interested in, as follows.
238 - Red Arrows Red
240 - RLM 02
241 - RLM 70
242 - RLM 71
243 - RLM 72
244 - RLM 73
245 - RLM 74
246 - RLM 75
247 - RLM 76
248 - RLM 79

Plus a new series of weathering powders will be produced as follows.
AV0001 - Black
AV0002 - White
AV0003 - Sand
AV0004 - Light Grey
AV0005 - Chrome Oxide Green
AV0006 - Iron Oxide
AV0007 - Dark Earth
AV0008 - Rust

Finally, a new clear varnish will be released, so fingers-crossed it fills the void left by the departure of Johnson's Klear! It will be released in a 125ml bottle, plus Airfix will now offer Decal Fix and their Enamel Thinners in the same large size as well.
21.12.11
The following kits have been reissued this week.
A02014 Aichi D3A1 'Val' £6.99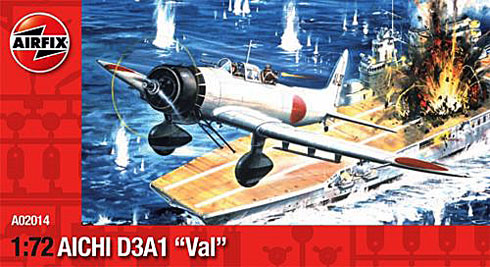 A02021 Vought OS2U-3 Kingfisher £6.99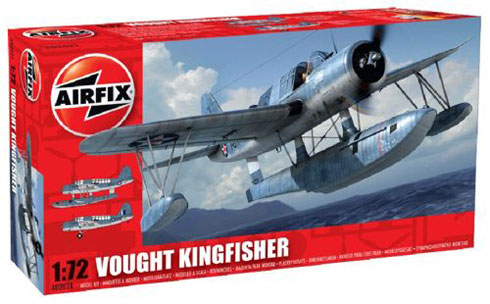 A55301 Panavia Tornado F.3 'Starter Set' £12.99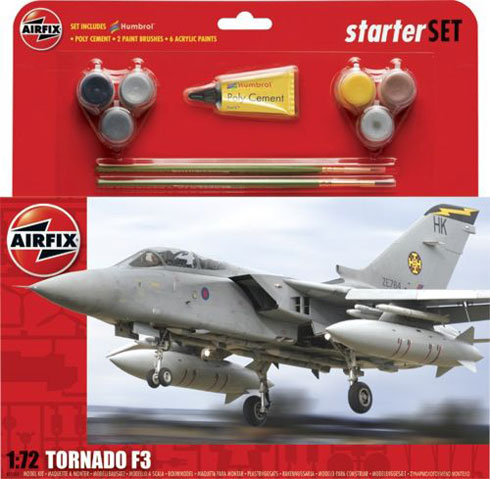 16.12.11
The following new and reissued its are now readily available
1:72
A03031 Grumman Duck £8.99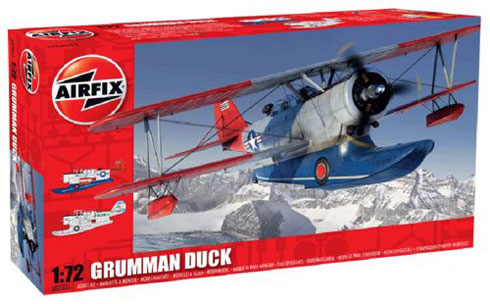 A04053 Fairey Swordfish £12.99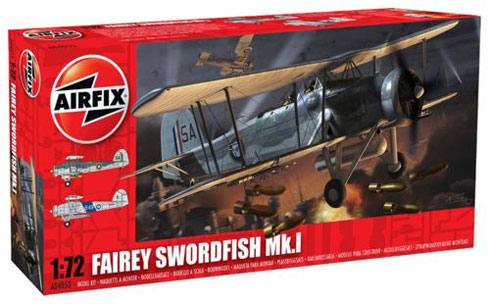 1:48
A09178 BAC/EE Lightning F.2A/F.6 £27.99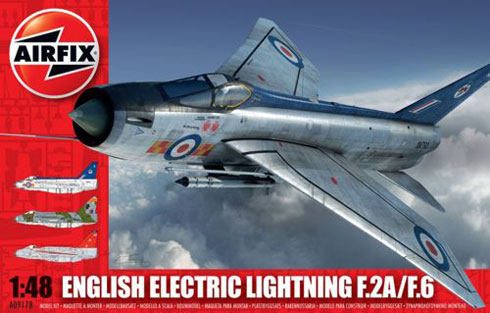 DON'T FORGET - Last orders for Christmas for UK customers via the Airfix website is this Sunday (December 18th), so if you want to buy yourselve a present, do it before it is too late!

«BACK»

18.11.11
The following are now readily available in the UK
1:144
A10170 Space Shuttle £29.99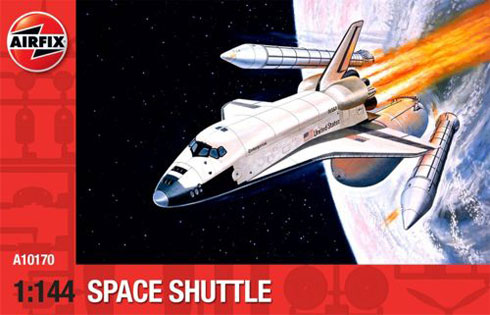 1:72
A05008 Junkers Ju 52/3m £15.99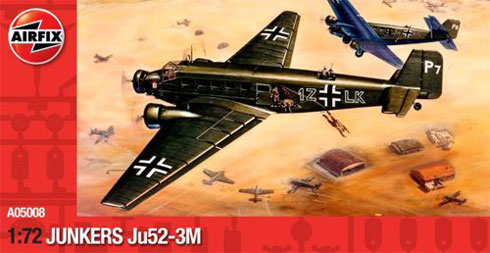 «BACK»

28.10.11
The following are now readily available in the UK
1:72
A01005 Mitsubishi A6M2b Zero £5.99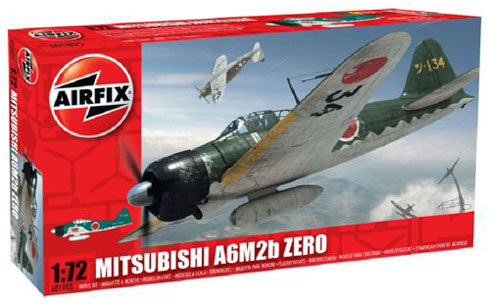 ©Hornby 2011
A50127 Curtiss P-40B and Mitsubishi A6M2b Zero 'Dogfight Double' £18.99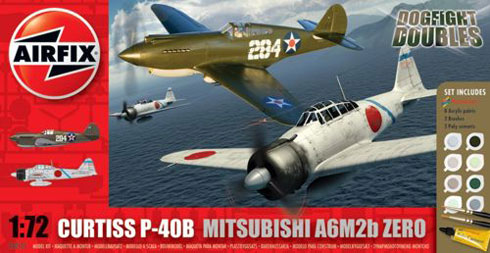 «BACK»

12.08.11
1:72
Back once again from Airfix is the Arado Ar 196A-2/A-3 (#A02019/£6.99).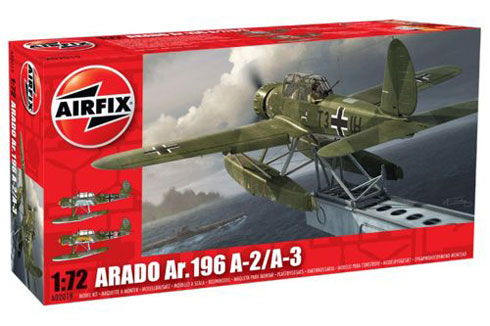 ©Hornby 2011

«BACK»

10.11.06
As many in the UK will have heard via radio and television news, it was announced today that Hornby Plc have purchased the Airfix and Humbrol brands from the Administrators. Here is the official press release, as given on the BBC website this morning.

Hornby Plc ("Hornby"), the international models and collectables group, has announced that it has entered into contracts to acquire certain assets of Humbrol Limited in Administration (Humbrol), the owners of the Airfix model kits and Humbrol paints businesses. The acquisition encompasses the Airfix model kit business, the Humbrol paints and model accessories business, the Young Scientist business and their associated assets. These brands are sold in a range of territories worldwide and are highly complementary to Hornby's existing brands. In the year to 31 December 2005 the acquired brands achieved sales of £6.5 million.
Hornby has exchanged contracts with the administrators and will pay total consideration of £2.6 million in cash on completion for the assets acquired from the Administrators Grant Thornton.
Hornby intends to re-structure the business, moving all the distribution, sales and marketing operations to its own site in Kent. It will re-locate the manufacturing and assembly processes to third parties. This will allow Hornby to focus on re-invigorating the marketing and distribution and driving sales growth.
Airfix and Humbrol remain strong brands and enjoy an excellent position in the market place. Demand has remained buoyant in recent years. Humbrol products are used by modellers across a large range of applications worldwide. Hornby management believe that they can re-invigorate the Airfix business by focussing both on traditional products for the model enthusiast and also by investing in new products aimed at the younger market.
The market for Humbrol's paint and model accessories products is very broad. Humbrol sells a successful range of products that consists of enamel paints, aerosols and adhesives in a large number of markets including Europe and the US.
Humbrol's products are used in a multitude of applications, not just model making. This will broaden Hornby's product offering which currently ranges from model railways, slot car racing sets, track extensions, buildings and landscape accessories.
The consideration will be financed out of Hornby's existing bank resources. The transaction is expected to be earnings neutral in the current financial year and significantly enhancing thereafter.
Frank Martin, Chief Executive of Hornby commented,
"We are delighted to have acquired Airfix and Humbrol, both of which are iconic brands in the hobby market. The strategic fit with Hornby is excellent. Hornby has similar distribution channels to Humbrol/Airfix, and we therefore plan to integrate the business into our existing structure, which gives the business the right platform and a more streamlined base from which to grow.
We have taken steps to re-align the cost base of the manufacturing and assembly process, to create a solid base from which this business can thrive. We can focus on product innovation, improving the marketing and driving sales growth.
Hornby has the expertise and track record of re-invigorating hobby brands. A detailed integration plan has already been put in place, to ensure that we improve the profit performance rapidly.
This acquisition consolidates the Group's strategy to build an international hobby business with a broad range of brands, allied to a tightly controlled cost-base. We are making good progress across a range of markets and territories."
Keith Hinds, joint Administrator at Grant Thornton said:
"I am delighted to be able to announce this successful sale. This transaction provides the best opportunity to preserve and develop what is an iconic brand."


We will keep you posted on progress and annoucements as they come along. Hornby will be displaying at the British and German Toy Fairs in early 2007, so I think for now it is a case of 'watch this space...'!